A stainless steel onion cutter is a kitchen tool designed to quickly and easily cut onions into uniform pieces. Here's how to use it: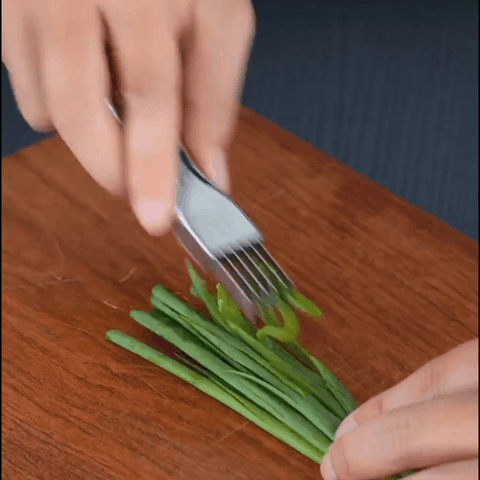 Peel the onion and cut off the top and bottom, leaving a flat surface on both ends.
Place the onion on a cutting board and position the stainless steel onion cutter over the onion.
Push down on the handle of the onion cutter, applying even pressure to the onion.
As you push down, the sharp blades of the cutter will pierce through the onion and slice it into uniform pieces.
Lift the cutter off the onion and remove the pieces of onion from the blades.
Repeat this process for as many onions as you need.
The stainless steel onion cutter is typically made of high-quality stainless steel, making it durable and long-lasting. It's also dishwasher safe, making it easy to clean after use. By using an onion cutter, you can save time and effort when preparing onions for cooking or adding to salads, sandwiches, and other dishes.

Main Features
Features with razor-sharp 6 blades that glide easily over your food, easy to shred through a whole bunch of scallions in minutes. Reduce your time to prepare food, create tasty, chopped vegetables for your dishes.
Easy To Use Just simply place the vegetable on your cutting board, and then glide the cutter vertically to obtain the thin and uniform strips, create tasty, chopped onion garnish for your dishes.
Wide Application Perfect for almost all vegetables or fruits that need to be shredded or sliced, like scallions, zucchini, potatoes, onions, tomatoes, carrots, cucumbers, bananas, strawberries, boiled eggs, and more vegetable and foods, facilitate your food making process and create delicate snacks for your family or friends.
Ergonomic Handle & High-Quality Curved handle is designed for a non-slip grip, which makes you cut vegetables effortlessly. Made of high-quality stainless steel, which is safe and durable, and easy to clean.

Specifications
Product Weight

Package Size




(L x W x H)

Package Contents

Scallion shredding cutter × 1

Material

Stainless steel

Length

16cm
Due to high demand please allow 5-15 days for your order to be delivered to your address (This applies to all United States and United Kingdom orders).
        All other countries worldwide typically take 5-20 days. We apologize for any inconvenience this may cause you; however, we are 100% certain that you will enjoy your shopping upon delivery!
        Thank you for being one of our valued customers.